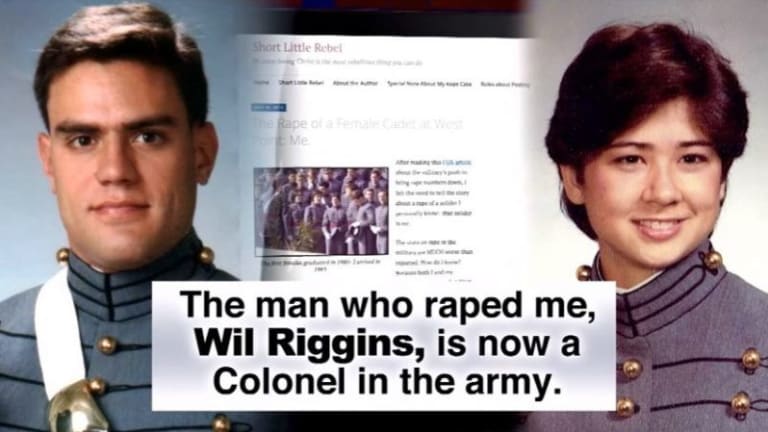 Blogger Susan Shannon Accused Army Colonel Of Assault, Then The Truth Emerged
Rape is a criminal offense. When US Army colonel David Wil Riggins was allegedly accused of rape by 52-year old blogger, Susan Shannon, his life was turned upside-down.
Shannon accused Riggins of rape through an article she posted on her blog. According to her, she was sexually assaulted by Riggins while they were in the United States Military Academy in New York.
Shannon claimed to have been raped by Riggins on a particular night in 1986. He offered to drive her home because the was drunk. In her post she alleged him of taking advantage of her condition after she had passed out in his vehicle that night. Questions were raised as to why she didn't speak up at the time it happened.
But she said she had to be quiet about it because of the army's code of silence.
Even after she dropped out of the academy, she said she still felt compelled to the code as she wasn't supposed to report her peers. Now after 3 decades, she feels like it is the right time to let out her pain.
Shannon's allegations came just after Riggins was put up for a significant promotion in the Army. Although, she denied having any knowledge about his nomination. She said it just felt like the right time for her to let out her pain. She was however contacted by Army officials for investigations.
Shannon post threw Riggins into misery. His successful career was turned around. Riggins promotion was immediately withdrawn and he was made a faceless man.
"I did not rape Susan Shannon, I did not assault her" Riggins said in denial. He announced that he did not know where Shannon got her story from because nothing of such ever happened between them.
Investigations were carried out by the Army, though they couldn't find a good evidence that the allegation was true, the damage had already been done to Riggins name. His name had already been dragged in the mud that he had to retire from the Army.
The allegation leveled against Riggins cost him a career and the name he had worked so hard to build. He decided to sue Shannon for defamation, he was determined to fight her back with the last of his blood. Since there was no evidence to back up Shannon's claim.
The jury's decision favored Riggins. The blogger was ordered to pay a sum of $8.4 million to Riggins for damages, a compensatory amount of $3.4 dollars for his damaged reputation and lost wages, and $5 million dollars in punitive damages.
Riggins however was satisfied with the jury's decision about restoring his reputation but still felt the large dollars Shannon was to pay him was meaningless. Shannon has shown herself has a big enemy and not worthy to be called a blogger because all she's set out to do is promote falsity and mislead the public. This would be the greatest lesson for bloggers who feel they can post anything about anybody, whether true or false. The internet is a very powerful tool that shouldn't be misused or turned into a vice to destroy people's reputation.