Omran Daqneesh, the Syrian boy who became famous for being the subject of a heartbreaking viral photo, is all cleaned up. Now, he looks healthy and recovered.
On June 5, TV reporter Kinana Alloush, who is best known for taking a controversial smiling selfie with dead rebel soldiers -- posted photos of Omran in his first appearance since the airstrike footage shocked the world, notes The Guardian.
An interview posted by Alloush shows Omran's father explaining that he changed his son's name and hairstyle after rebels reportedly intimidated him and others threatened to kidnap the boy, though The Guardian notes that the Syrian government could have coerced the family into giving the interview and has made similar publicity efforts in the past. Alloush is known to be a supporter of Syrian President Bashar al-Assad.
"The child Omran, those who tried to shed Syrian blood mislead the news that he was hit by the Syrian Arab Army," Alloush wrote below the photos, according to Daily Mail. "Here he now lives in the Syrian state with its army, its leader and its people."
In 2016, a dramatic image caused the 5-year-old to become the face of the civilians who suffered in the bloody siege on Aleppo, Syria. The boy was photographed sitting upright in an ambulance, covered in blood and dust from an airstrike that killed his 10-year-old brother.
A longer video shows the young boy, with his mop of hair and a shirt depicting Nickelodeon's "CatDog," scarcely moving but simply staring at the blood that he wipes off his face, not crying or talking.
"The boy was traumatized," radiology nurse Mohammad al-Ahmad, who was working the emergency room that night when Omran and three other injured young children came in, told The New York Times. "He wasn't speaking when he arrived. A few minutes later, he started crying from pain."
Though many others were killed and injured during the airstrike, it was Omran's photo that went viral, as countless people doctored the image and used it both to call for help and darkly suggest that it won't come.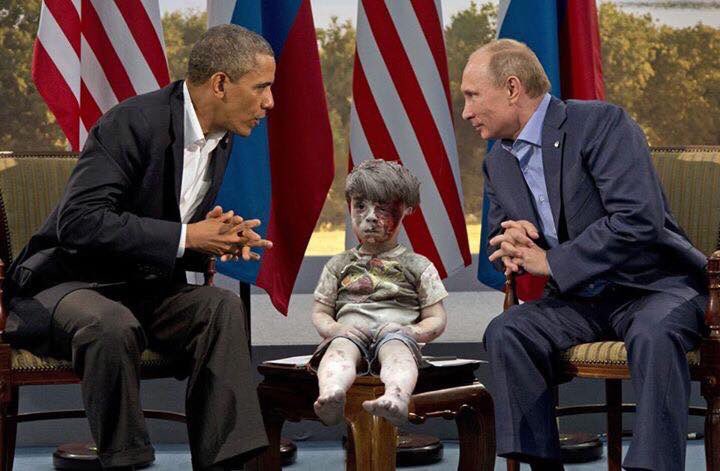 "Syrians are tweeting Omran's picture as they ask why the world is doing nothing about the killing in [Aleppo]," reads the caption of Telegraph Middle East correspondent Raf Sanchez's tweet.
Both parents reportedly survived the attack, though family members declined to talk to the media, saying that they were afraid of government retaliation.