One U.K. mother has found herself under the critical scrutiny of strangers due to her 5-year-old daughter's rare condition.
The problem: her girl suffers from an allergy to the sun and some people believe that she has been burning her own daughter.
Amy Wagstaff, 26, applies a cream to her daughter's skin every three hours in order to alleviate the effects of her photo-aggravated eczema.
The condition causes blisters and burns to appear on her skin when she is exposed to sunlight and is incredibly painful.
Her daughter, Bethany Wagstaff, must also be wrapped in bandages in order to prevent her from scratching at her wounds and risking infection.
Despite the care that Amy regularly gives to her daughter, many strangers on the street will shout comments at the two.
"When Bethany's having a bad reaction, people do stare at her and sometimes shout abuse," Amy told the Daily Mail.
"When it gets really hot," she continued, "I cover her in bandages to stop her from scratching at her blisters and sores, and people actually accuse me of burning my daughter.
"They shout at me, saying I'm a bad mother," she added. "Sometimes they point and stare at Bethany — which makes her feel uncomfortable. It's disgusting what people say. I don't know why they are so cruel to a little girl."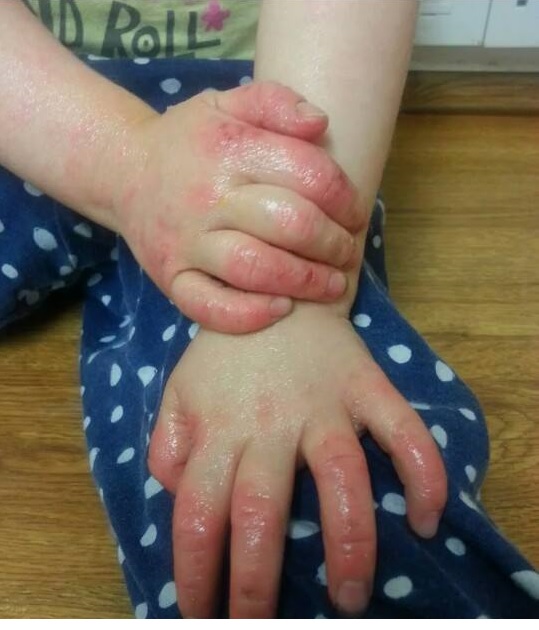 Bethany's dermatologists thought that she would grow out of her condition when she reached 4 years old. However, the issue has continued as she still breaks out in rashes and blisters.
"It is heartbreaking seeing Bethany upset and in pain all the time. She's dealing with so much she doesn't need ignorant people pointing and shouting abuse," Amy said.
At home, the mother must take precautions to turn the heat off as well as closing the curtains in order to ensure Bethany is comfortable and away from UV rays.
"If exposed to the sun," Amy said, "her skin will change color from white to red within seconds. She is constantly scratching or picking at her skin."
The mother-of-two has created a GoFundMe account in order to raise money to buy her daughter some of the costly medical equipment to help treat the condition.
"I want too [sic] raise money for Bethany too [sic] get some suits for her and for other bits such as special eczema bedding and eczema clothes etc too [sic] make her more comfortable as her illness is not curable …," a statement on her GoFundMe page reads.
"All money that is donated will go straight on Bethany and I will show you all proof and receipts," the statement continues. "Please make a difference too [sic] my beautiful princess."
Source: The Daily Mail, GoFundMe
Photo Credit: GoFundMe