At this year's D23 Fan Expo in Anaheim, California, I had a chance to finally play a game that I had only previously seen at the 2011 E3 show months earlier. Kinect Disneyland Adventures is a virtual representation of a day at the Disneyland Resort which utilizes the Xbox 360's motion controlled Kinect system allowing each player to actively interact with the events on screen. The game almost accurately reproduces many of the park's major locales, attractions and contains plenty of mini games inspired by the famous attractions to keep the player completely immersed in this virtual world while still giving the player a pretty good feel about a real day in the park. From meeting and greeting many of Disney's iconic characters to running a real bobsled down Matterhorn Mountain, Kinect Disneyland Adventures seems like pure, wholesome fun for the whole family.
Finally getting my chance to play the game at D23, I stepped up into a pre-generated avatar and began my experience at the park. Walking in through the drawbridge at Sleeping Beauty's castle, I made my way around Fantasyland, looking around in amazement at how accurately reproduced it was within the game. You have to understand, I am a huge Disney fan with a wealth of knowledge of the park and the company. Not only have I been a life-long Annual Passholder to Disneyland, I also worked for the company for a period of five years. That's five years of working five or six days out of the week at the Disneyland Resort. And in those five years, I spend many, many days working in Fantasyland. So if I can say that I was amazed at how accurate Fantasyland was recreated in the game from real life, believe you me, it is true.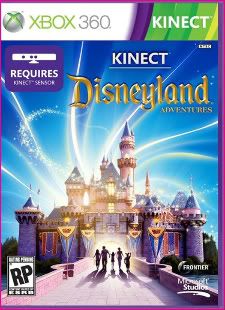 Because of the line forming behind me, and increasingly growing, I didn't spend that much time playing the game. There were a lot of young children at the D23 Expo who wanted to play the game, and to be honest, this is all for them. So I played enough to wet my curiosity and give me a bit more insight as to just what the game really is. My friends, I am telling you right now I have every intention of purchasing this game when it is released on November 15, 2011. Of course, now that means that I have to buy a Kinect system, but this game and its addictive charm will make it worth it. Not just for the Disney fan in me, but I also believe this will be THE family game of the season. And as a father of three young children who also happen to be big Disney fans myself, I see this game as a great way to get the entire family together for a fun game night. Sure, I might feel a little odd hugging myself to give a virtual rendition of Cinderella a hug, but if it means spending more time with my kids, I would gladly do so.