If someone makes a reference to a purple dragon the first name I think is no doubt the same as yours. Spyro. (I know a few people who think about the other guy but he was a dinosaur!) Oddly, I have never played a Spyro game; no reason, I just didn't until recently.
Activision and Vicarious Visions gave me a chance to preview Skylanders: Spyro's Adventure and it was a lot of fun. Perhaps it is because I am a mother and aunt, it's possible I didn't have enough toys growing up or maybe I let my inner girl come out too easily but when I saw the Spyro and friends figurines I thought they were adorable. These toys are a different kind of action figure. They act as memory cards for the player's character. Through an external device called a portal, the game can access the character and it's properties when the figure is placed atop making your child a 'Portal Master.' Best part, unlike a memory card, there is no pausing the game or returning to the main menu, the toy can be taken off the portal and replaced easily giving kids a sense of independence without parents worrying their consoles will be ruined. Toys for Bob, the makers of the "toys with brains" stole the show for me.
Parents: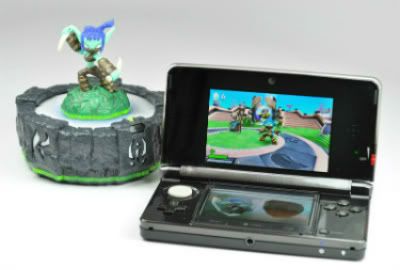 I am a gamer; my offspring will be gamers – period. I still give a damn what they play. Skylanders is an adventure game complete with cooperative multiplayer and competitive multiplayer, puzzles and strategy, which build as the game progresses. In short, children are learning as they go. The toys allow kids to play with their friends with ease since it doesn't matter which console they play the game on at home. Additionally the Nintendo 3DS release is a separate but complementary single-player game which can be used to keep up the fun on-the-go and to further build up the characters' abilities.
Fans: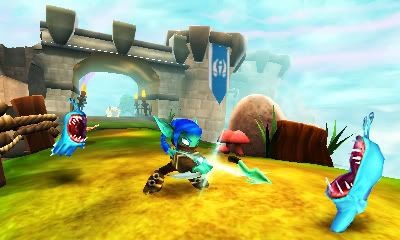 I am well aware of the naysayers and the negativity from the uberfans but I am not swayed. Hey, I get it. I have seen many of the things I once loved come back for a new generation in a way that turns my stomach. The operative word in my previous statement is "generation." I have read many comments about the experience gamers had when they were "4 or 5" and their disdain for the changes made to Spyro but they are now teenagers or older. Time to let go. This isn't your Spyro. It's time for new 5-year-olds to enjoy Spyro in a way appealing to them.
One gripe I can somewhat relate to is the total cost if parent's want to purchase the complete collection. Skylanders will cost $69.99 for each version (console and handheld) and will include the game, portal and three toys. Currently at least 32 total characters are planned though only 10 will be available at release. The toys will be sold individually for $7.99. If my math is correct, the total cost is between $300-350 depending on whether or not you purchase the console and 3DS versions. (i.e. 1 game and all the characters = approximately $302 but the purchase the Wii and 3DS versions then the additional characters and you could spend closer to $350.) My head hurts!
I know I have spent quite a bit of money for games when you include downloadable content and add-ons but, other than DC Universe Online, I'm not sure I have ever spent that much. Chances are kids won't want all of them and I also wouldn't buy every single character for my child. Wait. Scratch that. Anyone remember Beanie Babies and Pokémon and … The point is simple, you are only going to spend $300 if you want to because it isn't required.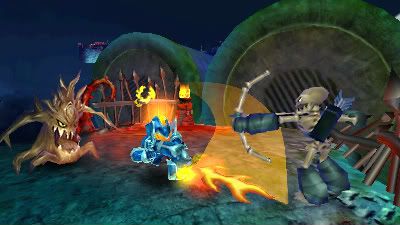 Don't let the lack of celebrity actor names deter you if you're into that sort of thing because there are some Hollywood heavy hitters behind the new game. Composer Hans Zimmer who has created amazing scores for films such as The Dark Knight, Inception, Sherlock Homes and so many more is behind Skylanders' music. The story was written by Oscar® nominated Toy Story screenwriters Alek Sokolow and Joel Cohen.
Given its October 16th release date, the game is sure to show up on many holiday gift lists and would make a great gift for the "harder-than-ever-to-purchase-for 'tweens." Overall, Skylanders: Spyro's Adventure has the potential to be a really great children's game.