With one magical comeback effort versus Brazil, Team USA re-emerged as one of the most exciting acts in all of sports.
By virtue of their never-say-die attitude and unique balance of personalities, the U.S. women's soccer team was able to somehow overcome horrid officiating by referees and a seemingly insurmountable hole en route to an eventual penalty kicks victory. Given this team's relatively low-key run up to this point, though, many may find themselves unfamiliar with the cast of characters on this version of the American side.
Here are some of the key contributors to the 2011 U.S. team:
Hope Solo
Solo recovered from major shoulder surgery last September to earn her place on the squad. Widely hailed as one of top goalkeepers in the world with an unparalleled kicking game, she underwent months of painful rehabilitation to get to this point and has been training and playing full out since the middle of March. Solo is second all-time in U.S. history in caps, wins and shutouts for a GK. She has lost just one game in goal for the USA in the past six years.

Christie Rampone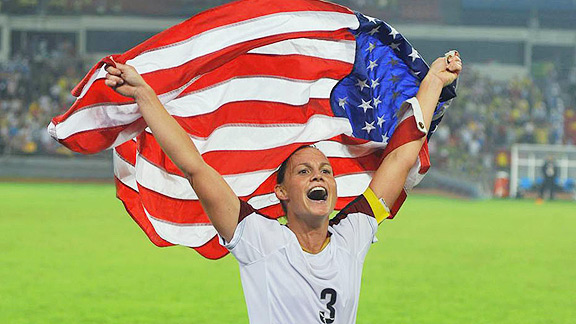 The U.S. captain is still one of her country's fastest, strongest and most tenacious players. The central defender will be playing in her seventh world championship and will likely pass Joy Fawcett to move into fourth place on the USA's all-time caps list during the Women's World Cup. The only mother on the team, she has two daughters and has rebounded strong from both pregnancies to seal her place as one of the most legendary players in U.S. history.

Heather Mitts
One of the USA's most veteran players, the gutsy Mitts earned her first cap in 1999. From 2004-2010 she played in almost every game the USA played, starting most of them, almost exclusively at right back. She has had some injury issues in 2011 from which she has recovered fully, and after playing more than 100 times against some of the world's best teams in some huge matches, Mitts is surely a valuable player to have on the roster.

Shannon Boxx
Boxx has been one of the best defensive-oriented midfielders in the world since her excellent performance at the 2003 FIFA Women's World Cup, but has also been a vitally important part of the U.S. attack for her scoring (22 career goals) and ability to set the team's ball-possession rhythm. She has become a consistent presence in the center midfield, starting 137 of her 143 career caps, and her partnership with Carli Lloyd in the middle is a key to U.S. success.

Heather O'Reilly
Displaying one of the best work rates in the world, O'Reilly has been thundering up and down the right flank for the U.S. team since 2002 when she was only 17. At the beginning of this year she broke the U.S. record for most consecutive games played with 63. She had an excellent 2007 FIFA Women's World Cup, scoring twice including a key goal in the opening match draw against North Korea, and in the past four years has developed into one of the team leaders.

Carli Lloyd
The USA's attacking midfielder possesses some rare qualities in her ability to beat players on the dribble and to strike on goal from distance. As fit as she's ever been, Lloyd is a key cog in the USA's attack and is looking to make a major impact in her second Women's World Cup. She scored the winning goal in the 2008 Olympic gold medal in overtime and among her 27 career goals are several that have been both clutch and spectacular.

Abby Wambach
One of the world's best players in the air, she is currently the fourth all-time leading scorer in international soccer history. The USA's emotional leader was her country's leading scorer in the past two Women's World Cup tournaments, and the 2004 Olympics, but she missed Beijing 2008 due to a broken leg. Her ability to wear down defenses with her physical play, aerial game and hard running has long been a key to the USA's success.
Note: Player biographies courtesy of the U.S. Soccer national site - http://www.ussoccer.com