GARWOOD, N.J. – A photo of the ISIS and Turkish flags hanging from a New Jersey home was tweeted on Tuesday morning.
Yahoo News Reports that the flag was hanging on display for weeks.
The photo quickly drew hundreds of retweets and comments, one of which read, "That's creepy." It was even retweeted by conservative television host Glenn Beck.
Others expressed concern for their safety and commented that it is inappropriate for a jihadist flag to be displayed from the home.
The man who put the flag up, Mark Dunaway, defended the decision to put it up.
"This is just me expressing that I am a Muslim, that's it," he said to CBS.
Garwood police have confirmed that the flag has been removed from the front of the home.
Garwood Police Chief Bruce D. Underhill confirmed that officers were "aware of the situation." He denied that the police "ordered" the flag to be removed, and refused to discuss whether or not the police had been contacted about the home in question.
"It does not have anything to do with ISIS. Like I said, people use flags for different reasons, that was not my intentions at all," Dunaway said. "It may sound like I'm pleading ignorance. I had no idea, because I try not to get involved and pay attention to that stuff."
After the initial photo of the home with the ISIS flag was posted, Twitter users followed up with an updated photo that appeared to confirm that the black militant flag had been removed.
The ISIS banner had been replaced by a flag that appeared to resemble the blue-and-white striped flag of Greece. It remains unclear from the photos, however, to which nation the flag belongs.
According to the photograph, the Turkish flag also still remains on display.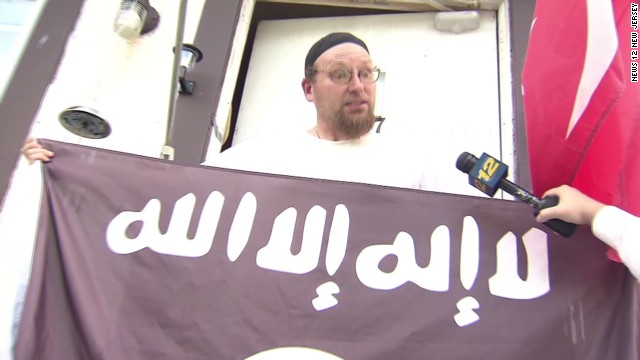 (via CNN)
Sources: The Washington Free Beacon, Yahoo News
Photo Sources: The Washington Free Beacon, Khaama