Police officers had to intervene after two Florida high school students received death threats for wearing Donald Trump-themed costumes on Sept. 20.
Many threatened Palatka High School students Shelby McClellan and Cassidy Cushman after they uploaded a Facebook photo of themselves dressed as Trump and "the wall" respectively, Breitbart reports.
"We had additional staff to Palatka High School, which is only staff[ed] with two resource deputies," Capt. Joe Wells told WKMG. "We added a third resource deputy in that school and we also worked with the Putnam County School District Police Department and provided some additional manpower just to make sure tensions were not going to remain high and there were not going to be any problems."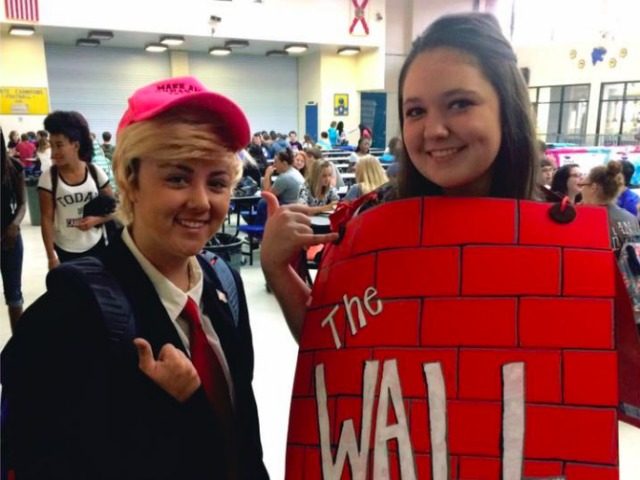 The duo dressed up for their school's homecoming week festivities, in which Sept. 20 was designated as America theme day.
"There was nothing racist and/or mean about [the] choice of costume. They are just strong in their political beliefs," McClellan's mother explained. "Both myself and the other girl's mother spoke with the school principal this morning. And he, along with other staff, saw no issue with the costumes the girls had on."
While school officials were fine with the girls' costumes, fellow students taunted and teased the two.
On social media, many expressed their outrage.
"Everyone should see now how we living racism still exists‼" wrote one Facebook user. "Them kids can't even have ripped jeans and phs think it's ok for them to dress as trump? But when someone gets hurt everyone looks stupid there are plenty of costumes that could have been worn why put yourself in a situation where you knew it was going to get ugly but y'all be QUICK to press charges."
When another user responded making a racist comment about black people on food stamps, tensions escalated. A little while later, police were called in.
"I think this post is about to get wild and should just be deleted before a persons safety is at risk," a concerned user wrote, adding both the racist comments and response to the teenagers were uncalled for. "We are supposed to care for each other and I love all my Hispanic and black friends but this is getting out of hand. I think it was meant to be innocent but the wall is definitely gonna cause an uproar."