Vets in Thailand were able to save a green sea turtle's life, but they were shocked to find the source of the turtle's health problems was a mass of 915 coins inside her abdomen and intestines.
The turtle, Osmin, which translates to "piggy bank," was close to death when she was brought into Bangkok's Chulalongkorn University for a CT scan.
Veterinarian Nantarika Chansue quickly discovered an 11-pound ball of metal that had cracked Osmin's ventral shell and caused a massive infection. Left unchecked, the metal would have prevented Osmin from eating and eventually would have caused a torturous death for the animal.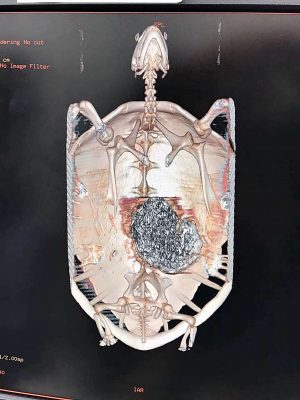 "When we first saw her, she was very still and was letting herself drown. Her left leg wasn't moving because it was impeded by the lump of coins," Chansue told Khaosod. "The scan revealed a mass of coins [7 3/4 inches] wide, pressed into [the abdominal wall] near her stomach."
Many in Thailand believe that tossing coins to turtles brings longevity. The tradition suggests that turtles will share a bit of their lifespans with those who share wealth and blessings. People would often toss coins to Osmin in her pond in Sri Racha. Over the years, the turtle apparently decided to start eating those "blessings."
Residents found Osmin in a pond outside an abandoned building and brought her to the university.
Chansue told The Associated Press in Bangkok that she was deeply upset to discover that humans were the cause of the turtle's illness.
"I felt angry that humans, whether or not they meant to do it or if they did it without thinking, had caused harm to this turtle," she said.
"Instead of getting merit, you actually commit a sin due to your wrong belief," Chansue urged. "Please change from throwing coins into the ponds to putting money into donation boxes."
After veterinarians discovered the mass, Osmin was prepped and sedated. Surgery took four hours. Five surgeons had to open her shell and pull the coins out gradually, some nearly dissolved from corrosion, because the mass was too large to remove all at once.
Osmin is now recovering at the university, where she will remain for rehabilitation until she is ready to be released back into the ocean.
Chansue has been rescuing turtles in Thailand for 15 years. She launched a program to save aquatic animals from the ponds around Buddhist temples after an abbot alerted her to the problem, which is fairly widespread.
Many Thai Buddhists believe they gain spiritual merits from releasing these turtles and fish into ponds, but they often cause the small bodies of water to become overpopulated and polluted.
Around 80 percent of turtles taken in by Chansue's program suffer from infections and liver disease caused by the polluted waters they are kept in, according to the Bangkok Post.