Fans of the Chicago Cubs were shocked not only by their incredible and historic World Series victory, but also the apparent prediction by a high school grad 23 years ago.
In 1993, a California high school grad named Michael Lee predicted the future world series win -- the first for the cubs since 1908 -- right down to the year in an eerie yearbook quote.
"Chicago Cubs. 2016 World Champions," the quote read below Lee's picture. "You heard it here first."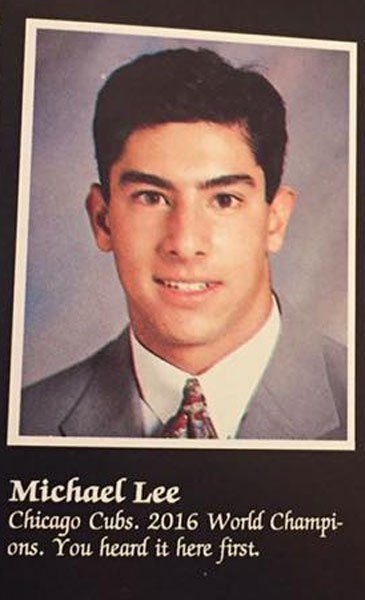 The prediction went viral before the Cubs actually won, after a Twitter user tweeted a photo of it. Thomas Dale explained that his mother walked into his room with a yearbook and pointed out the shocking prediction, prompting him to tweet a photo of it.
Though many initially thought it might have been digitally tampered with, a Reddit user later claimed to have found additional copies of the same yearbook and confirmed its authenticity. A former classmate also confirmed that he never forgot the quote and even spoke to Lee about it in 2009.
"When [Lee and I] connected on Facebook in 2009 I sent him the photo and told him we were nearing 2016. He posted the photo of his prediction on August 8th," Marcos Meza said, The Huffington Post reported.
"After my Dodgers lost it was time for me to make this go viral and BeLEEve in the Cubs for 2016."
Another strange prediction went viral after the Cubs went to the World Series -- one written in 2014, according to KABC.
"2016 World Series," the tweet read. "Cubs vs Indians. And then the world will end with the score tied in game seven in extra innings. #apocalypse."