A series of anti-Islamic ads have sparked controversy in San Francisco. The ads, purchased by Pamela Geller and the American Freedom Defense Initiative, take blatant shots at Islamic culture.
The latest batch of these 50 ads "equate Islam with Nazism" according to SF Gate, and feature Adolf Hitler opposite of Haj Amin al-Husseini, a Muslim leader who opposed Zionism. The words "Islamic Jew-Hatred: It's In The Quran" accompany the image as well as the message "End all aid to Islamic countries" on the very bottom.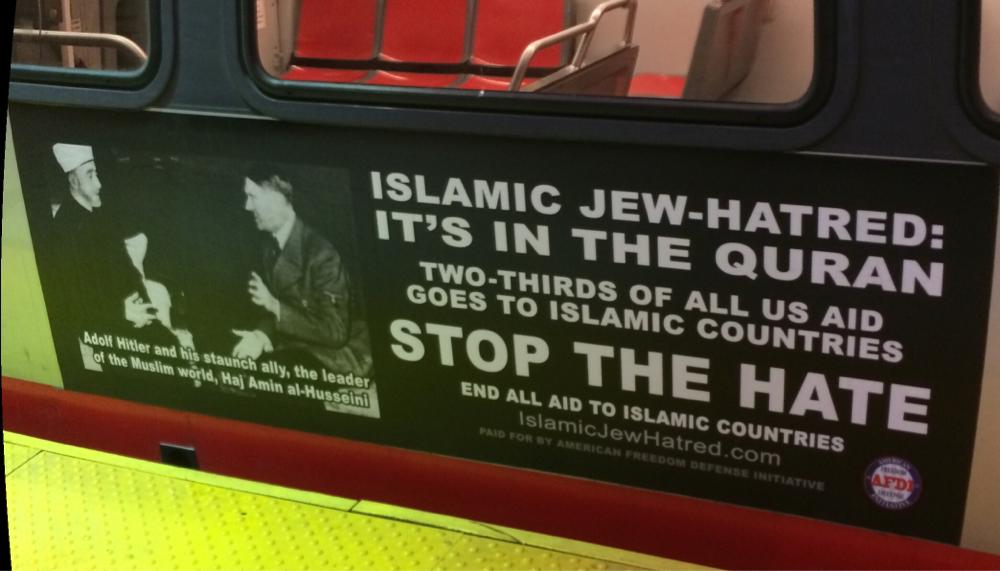 The American Freedom Defense Initiative has posted ads of a similar nature before. Most recently, after the Fort Hood mass shooting which led to a 10 bus ad campaign featuring photos of Osama Bin Laden, linking the tragedy to Islamic culture.
After the signs went up on Jan. 9, the San Francisco community has debated about how to approach these ads. Many city leaders, including San Francisco mayor Ed Lee and District Attorney George Gacon, have decried the advertisements as racist and offensive.
Some San Franciscans took matters into their own hands though, pasting images of Kamala Khan, a 16-year-old Muslim superhero from Marvel, onto the signs. The activism has caused a social media storm, with people posting photos of the altered advertisements which now read messages like "Calling all bigotry busters" followed by "Stop the hate" from the original message.
"Stamp out the hate," reads another message from the superhero. "Free speech isn't a license to spread hate."
The San Francisco Municipal Transportation Agency insists that they cannot remove the ads due to protected free speech.
"We understand and apologize that people could be offended by these ads," Paul Rose said, speaking for MUNI. "Neither the city nor MUNI endorse the content of these negative ads. However, the First Amendment protects freedom of speech, including speech that is considered offensive."
Sources: SF Gate (2) Photo Credit: Wikimedia Commons