Perhaps allowing my inner 10-year-old to come to the surface and play with my inner 18-year-old is all it takes to make a game stand out to me, but it worked for Critical Studio and Paradox. When I sat down at a table decorated with lollipops the size of my face, I wasn't sure what to expect but I was leaning towards a family-fun title better suited for my niece than me. While my niece will probably like this game (assuming she'd be allowed to play) the game was definitely created for a special kind of adult. Think: Alice in Candyland after a few cocktails.
Be it the suicidal bunnies or the sheep canons that look like a teapot, the surprises come from every direction in Dungeonland. Don't for a second think this means gameplay or mechanics were sacrificed. The cooperative game, which was somewhat reminiscent of Marvel Ultimate Alliance, allowed 3 players to work through each level utilizing our characters strengths. With a powerful warrior, a healing mage and a puma-lik rogue, we fought gnome-like wizards, a purple sawn thingy and a crazed rabbit, among other foes. Once I got the hang of the button configuration and special abilities I was able to better compliment my teammates' abilities - - here's a hint, communication is king.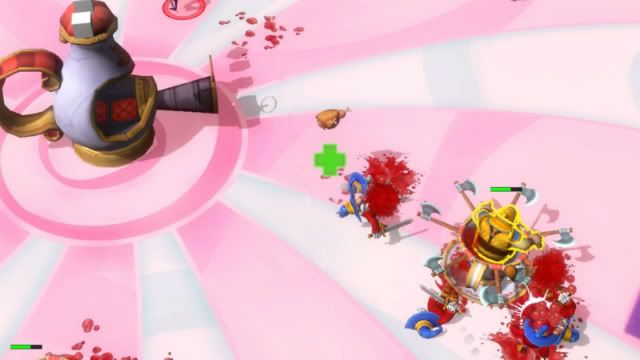 After playing a few levels with the developers, my uber-friend, Jonathan Long, got to join in, confirming it was not just me who was having a good time with the game. Granted, I was way better than he was, but we made it through (with a little help from the developers' fail safe – a handy little button they'd press to add additional lives) and had a blast. I also found out my friends (and fellow gaming journalists) Sebastian Valle and Robert Workman found the game extremely entertaining, and while I don't usually care for the opinions of others in determining my, given the uniqueness of the game, it was a nice surprise. (In other words, it was nice knowing this seemingly "cutesy" game was enjoyed by grown men.)
With plans to add an optional 4th play (the dungeon master) and promising new levels, this game should be entertaining by a wide array of gamers.
Dungeonland is expected out later this year and will be available for PC and MAC.
~ ~ ~
Chastity "NuyoRiqueña" Irizarry is the Executive Editor of Nfamous Gamers. You can follow her on Twitter and read more at NuyoRiqueña.