According to the USA Today, sports licensing has been hit by the recession. So what better cure for the NBA than putting their logos all over food items?! How about that Boston Celtics logo on a pizza? Of course, if a Laker fan eats that, they're likely going to have food poisoning.
I'm sure NBA M&M's taste sweeter. Try to put them in alphabetical order!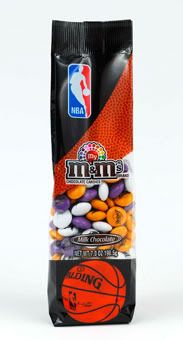 In case Dwyane Wade leaves the Miami Heat, drink this to stay awake while watching Heat games.
And, by the way, this is what L.A. thinks of Phoenix's chances of winning the series against the Lakers.
And we've already seen Laker-themed wedding items. I can't wait for some more clever advertising later on for other items.
"Are you really purple-and-gold inside? Los Angeles Laker Condoms! It's the Laker in you!"
Kill me.
Tip of the hat to Jeff Garcia of Project Spurs.
Follow my NBA blurbs on Twitter. I am @TheNoLookPass. And check out our FaceBook page.