Georgia
One deputy sheriff in Georgia decided it would be a good idea to snap a selfie with a police dog, but the dog was not at all pleased, and the officer wound up being rushed to the hospital with gruesome injuries.
Murray County Deputy Brett Morrison was mauled by the dog, a Malinois, after he tried to put his arm around it for a picture after a successful job. The dog is trained to react if it's touched in a certain way, so unfortunately for Morrison, the canine was just doing what it was taught. The police dog went straight for Morrison's face, biting open his lip and chin.
"It's an act of aggression to them whenever you do that," said Major Greg Fowler to the Dalton Daily Citizen. "The canine just responded by what was presented to him based on his training."
After being attacked by the dog, Morrison was rushed to a hospital where he was treated for the injuries he sustained.
"They had to do quite a bit of stitching in the lip area where (it had been opened up) in a pretty good gash," said Fowler. "We're praying for the deputy and everything to be fine with him. He's recuperating well, and we're sorry for the incident, but you train animals, you train them to do certain things, and you don't deviate from the training."
Morrison is said to be at home recovering from his injuries and made a statement to WRCB, explaining his decision to take the picture.
"I had my phone in my hand when the dog began rubbing its body against my legs and the legs of another deputy," said Morrison. "The dog raised up and put his front feet on the other deputy's chest and then he did the same to me. While he had his feet on my chest and I was petting him with my left hand, I thought that would make a good photo. It was then that he bit me."
Morrison also claims that the selfie wasn't "pre-planned." An investigation is currently underway.
Two Georgia parents who didn't want their children to take the state's Criterion-Referenced Competency Tests (CRCT) had to jump through quite a few hoops to exempt their kids from the test.
Citing concerns about over-testing, Mary and Tracy Finny sent an email to school administrators asking to have their children excused from the test. A response from the principal of West Side Elementary School in Marietta, Georgia said she is not aware of a provision in state law allowing kids not to take the tests.
"To my knowledge, there is not an opt-out option for the CRCT since these tests are mandated by state law," Principal Karen Smits wrote. "I have forwarded your email to our Superintendent, Dr. Lembeck, and Associate Superintendent Dayton Hibbs for further guidance. Someone will be in touch soon."
The Finney's told Smits they were demanding, not requesting, an exemption, and Smits then scheduled a Wednesday morning meeting with the parents on the same Wednesday morning that CRCT testing was being conducted. Later that night, Smits cancelled the meeting, but the Finney's say they didn't check their email after the cancellation message was sent.
The next morning, the Finney's arrived at West Side Elementary School. They were greeted by the School Resource Officer, who told them that being on school grounds without a meeting scheduled was "kind of a trespassing thing."
The Finneys took offense to the police officer's presence, and told The Blaze they thought it was "pre-planned" because the officer "was there before the meeting."
Nevertheless, the issue is being resolved in a way that pleases the Finneys, and their children are being exempted from the tests.
"We received an email from our assistant superintendent telling us that if our children return to school, they would be welcomed," Tracy Finney said. "The teachers were notified that our children were not to be presented the CRCT Standardized Test, and that our documented refusal of the test would serve as evidence that we had refused the test and that our wishes would be upheld.
"They stated that we have been made aware of the consequences of our decision. The consequences are that we would meet with the [principal] and teachers to go over our children's academic portfolio to determine their placement for the next school year. This, in our opinion, is a MUCH better solution to placing our children than a snapshot type test."
Sources: The Blaze, The Marietta Daily Journal
A member of the Miami-Dade Fire Rescue team in Florida recently released a surveillance video to warn parents about the dangers of not watching their kids.
The surveillance video (below) shows a two-year-old child, Alayna, in the Augusta Mall in Georgia, climbing over the wall of a fountain, falling in and nearly drowning before an older boy calls for help and a nurse pulls the toddler out of the water, noted Local 10.
Alayna's mom, Ashley Ishmael, was looking for her daughter in the mall's stores when the girl nearly drowned on Aug. 28, 2013.

"I was playing with her and then she had gotten up into the top part of the slide playing with two or three other kids," Ishmael told WRDW. "And next thing I know she was gone."

When Alayna was released about two months later, she was still in a wheelchair. A new Facebook page "Alayna's Angels" has been set up for people to help the child and her mother.

Miami-Dade Fire Rescue spokesman Arnold Piedrahita posted the video on his Facebook page, where he wrote: "If me posting this video scares someone enough to … install a pool gate then my job is done."
"I ran [upon] a 13-month-old boy who drowned in the family pool with 11 adults home at [the] time," Piedrahita added. "Everyone thought someone was watching the baby."
Georgia's tax credit program takes "funds away from Georgia's public schools" and redirects it to private religious schools, according to a lawsuit filed in Fulton County Superior Court.
Raymond Gaddy and three other co-plaintiffs say the program violates Georgia's Constitution and tax code.
The claim states that money is siphoning public school funds through scholarship organizations, which are not regulated by the state.
"Individual taxpayers in Georgia, as well as corporations, receive dollar-for-dollar tax credits for donations and contributions made to private Student Scholarship Organizations ('SSOs'). The SSOs then take the redirected tax funds and use them to provide scholarships for students to attend private schools," the suit says.
"Absent the constitutionally required state administration, the SSOs and the private schools that receive their funds are free to do virtually as they please," the complaint states.
Gaddy's children attend school in Chatham County. He says Georgia "enacted a scheme in which funds from the state's treasury are redirected to pay tuition at private schools in the state."
The suit claims that tax credits are prohibited if the taxpayer designates education expenses for the benefit of a particular student.
"In this regard, although supposedly intended to benefit underprivileged children, the SSOs and private schools receiving the funds can, and generally do, award scholarships to students who already can afford private schools," the complaint states. "Also, because the majority of private schools in the state are faith based, many enrollment decisions are conditioned on commitment to specific religious beliefs and practices."
The plaintiffs want the state enjoined from redirecting tax money and a declaration stating that the program violates Georgia's Constitution and tax code.
Sources: Courthouse News Service, Liberaland
Four hours into her first shift as a Georgia 911 operator, Crystal Morrow got a call that saved her father's life.
When Morrow received a call at Dekalb County 911 call center in August, she heard a familiar voice on the other end.
"I heard her voice and I saw her name pop up on the screen," Morrow said. "I said, 'Wait, that is my aunt.'"
The woman had no idea she was speaking to her niece when she told her that her father was going into diabetic shock.
"I did freeze, my hands froze over the keyboard, but I knew I had to get the call in," Morrow told WAGA-TV in Atlanta.
She then calmly instructed her aunt what to do to help her father before paramedics arrived.
"I want you to watch him very closely, if he becomes less awake and vomits, quickly turn him on his side," Morrow said during 911 call. "If he gets worse in any way, call us back immediately for further instructions, OK?"
Her father has recovered.
"She handled it well," said Danielle Harvey, the man who trained Morrow and has been nominated for an award. "She got up after it was over and went out. So I checked on her and told her to go see about her family."
"Because of so many people being in the room, I didn't think I would get the call," Morrow said. "It's crazy that I got it on my first day."
A Georgia bank accidentally deposited $31,000 into a teen's account, and now that they've realized their mistake, they are asking him to pay it back. Unfortunately for the teenager, most of that money has already been spent.
The mix-up happened on March 7 when a customer named Steven Fields deposited $31,000 into his bank account. The teller mistakenly deposited the large sum of money into a different bank account that happened to belong to someone of the same name. 18-year-old Steven Fields received a notice that the deposit had been made into his account, and instead of notifying the bank that there had been a mistake, he decided to go on a spending spree.
The younger Fields immediately withdrew $20,000 from his account and proceeded to spend another $5,000 on his ATM card. 10 days after the initial mix-up, the correct Steven Fields notified the bank that his money had not been deposited into his account, and that's when the bank's staff realized a mistake had been made.
The next day, teenage Steven Fields went to the First Citizens Bank in Hull, Georgia to withdraw more money, but when he arrived, the bank informed him of the mistake and asked him to return the money. According to the officer that was dispatched to the scene on allegations of financial fraud, the 18-year-old told bank staff that the money was from a family inheritance and that it had been direct deposited – both claims that the bank ultimately refuted. Fields told the officer and bank staff that he would go home and retrieve proof of his inheritance, but once he left, he never returned.
Later on, when police went to Fields' home to confront him, he informed them that he believed the money came from his grandmother's estate.
"I informed Mr. Fields that the bank wanted the money back as soon as possible," wrote an officer in the police report. "Mr. Fields stated that he would go to the bank and talk with Mrs. Bryant and try to settle this situation without going to jail."
Bank officials say they will press charges against the teen if he does not return to settle the matter, and as of the most recent reports, he has yet to do so.
A bill recently passed the General Assembly in Georgia that would allow state workers to test food stamp recipients for drugs. House Bill 772 passed just before the close of Georgia's 2014 legislative session and now must be signed into law by Gov. Nathan Deal, Republican, according to MSNBC.
Passage of the bill came as a surprise to many, because legislators had been warned that such testing was prohibited under federal law. On March 7, Robert Caskey of the Department of Agriculture's Supplemental Nutrition Assistant Program in Atlanta sent an email to Georgia officials citing a law that said "no state agency shall impose any other standards of eligibility" beyond provisions already in the federal Food and Nutrition Act.
According to The Augusta Chronicle, the email stated, "The addition of a drug testing provision of any type is prohibited in the SNAP program."
The warning didn't deter lawmakers. Rep. Greg Morris, Republican, who sponsored the bill, called it "common sense" legislation.
"Hardworking Georgians expect their tax dollars to be used responsibly and efficiently," he said in an earlier statement. "Under no circumstance should the government fund someone's drug habit."
The bill stipulates that drug screening would not be universal. Caseworkers must have "reasonable suspicion" before ordering the test. Such language does little to assuage the fears of critics of the proposed law.
"We still believe that the factors giving rise to individual suspicion are unconstitutionally broad and would likely be struck down in the courts," said Chad Brock of the American Civil Liberties Union of Georgia.
A similar law was passed in Florida in 2010 and never saved that state any money. Florida spent over $45,000 testing food stamp recipients. The law was declared unconstitutional in 2011. Before that happened, the state tested 4,000 individuals and only found 108 recipients using drugs, according to a column on Slate.com.
To save Georgia money, Morris' bill requires that Medicaid recipients pay $17 out of pocket to take the test.
"That would be a small pass for entry into an entitlement program," Morris said.
Deal has until May to sign the legislation. His office has not indicated his intentions.
Sources: MSNBC, The Augusta Chronicle, Slate.com
Georgia parents: quit letting your children go to school with toy guns.
Pointe South Elementary School in Clayton County, Georgia was locked down on Friday because of a toy gun. The lockdown marked the fifth time in 11 days an Atlanta-area school was locked down over a fake firearm.
Pointe South officials says the school was locked down for about 20 minutes after officials saw three children playing with what turned out to be toy guns. The latest lockdown prompted Clayton County Schools Police Chief Clarence Cox to send a recorded phone message to each of the district's 52,000 students and their parents reminding them not to let students bring toys weapons to school.
After a March 14 lockdown, Cox responded to people who say the schools are overreacting when they lock down over the toys.
"We don't feel like it's an overreaction (to go on lock down)," Cox said. "When someone tells us there's a gun on our campus, we don't have time to determine if its real or not. We treat all of them as if they are real."
Source: 11 Alive, CBS Atlanta
On March 6, Ukraine's acting president accused Russia of pre-Georgia (2008) open-aggression tactics in Crimea, as the world focuses on the serious threat of war in this region. That same day "team" posted graphic photos of (illegal) dog fighting on the English Russia (Georgia) blog, touted as,"The most popular blog about this part of the world with a twist." All content is "submitted by readers through feedback or acquired through open sources," the disclaimer states, "Welcome and stay comforted."
Following the traditions of Svaneti (Georgia) dogs for fighting meet on neutral territory, because Svans believe that the dog fighting on its own territory has an advantage. It is strictly forbidden. Dogs from both sides come accompanied by several cars with supporters. The road quickly gets blocked, as more and more cars arrive for the spectacle, and in such a situation nobody shows impatience or displease.
Owners of dogs start negotiating several months before the event. If a fighter is too famous or strong it becomes difficult to find an opponent. Nobody wants to lose. So such preparatory negotiations may last for a month or two…
The battle takes place right on the road. When the cars reach the road sign showing the boarder of the village they stop, surround a small area on the road and let dogs and their owners show up. After the signal both dogs get unleashed.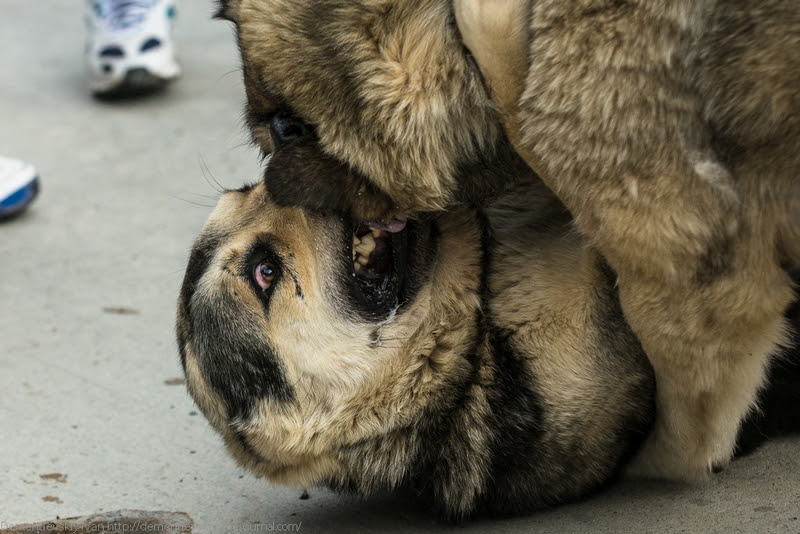 During a fight it's dangerous to come too close. They may bite you too.
As a rule, it's the more experienced dog that wins. Strength is also important, but those dogs that have no experience usually lose.
Source: English Russia
A Georgia teen was arrested for allegedly beating his grandmother to death with a baseball bat Tuesday when she refused to take him to the store to buy cigarettes.
JeNorman Bland, 18, is facing charges of murder, kidnapping, robbery and false imprisonment.
He is accused of chasing his grandmother through her home and repeatedly striking her with a bat, Butts County Sheriff Gray Long told WSB Radio.
The grandmother, who was not identified, was found dead in her home near Jackson at 7 p.m. Tuesday.
Bland doesn't live in her home, but came over to ask for a ride to a nearby store, Long said. She refused because she was getting ready to leave for work. Bland allegedly went inside the home, got a bat, and began chasing her with it.
He stole his grandmother's car after the incident and was later arrested by Griffin police.
"He confessed to the murder," Long said.
Bland is scheduled to appear in court Thursday.
Sources: WSBTV, San Francisco Chronicle