artist
After presenting a popular map of favorite bands listed by state, Music Machinery has developed another map indicating the least favorite bands of each state.
Though the results sometimes change as the list depth increases (from top 50, 100 and 200), some artists are regulars on each list.
In all three list depth categories, Alabama seems to dislike anyone deemed "iconic," like David Bowie or Bob Marley. Regardless of list depth, Maine despises R. Kelly, as does much of the Midwest.
In the top-50 list, Florida, Arizona, Mississippi, Indiana and Ohio all dismiss HAIM. A surprisingly small number of states, only Illinois and Vermont, have Chris Brown listed as their least favorite artist.
In New England, Luke Bryan is distinctly disliked.
Top 100: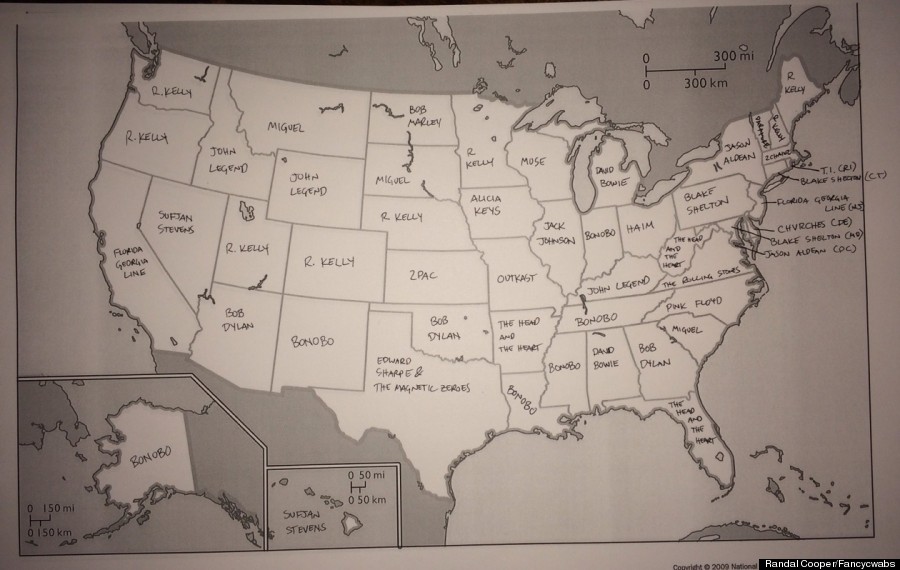 Top 200: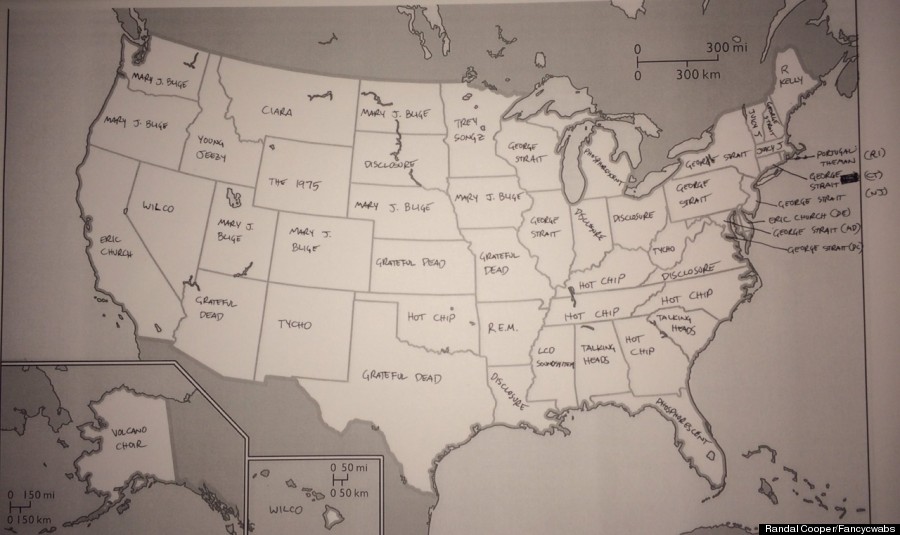 Sources: The Huffington Post, Consequence of Sound
Reclusive graffiti artist Banksy was reportedly revealed after he was caught on camera near one of his own pieces in New York.
The man, who is seen wearing a flat cap and paint-covered overalls, appears to be fixing a "moving painting" on a van that broke down. The person is believed by several newspapers to be Banksy, who has never confirmed his identity.
Previous photographs reportedly showing the artist were taken in Santa Monica in 2011 and East London in 2007. Both photos feature a white man in his early 30s with brown hair, which are compatible with the newest picture.
The artist's real name is thought to be Robin Banks or Robin Gunningham, though the only detail about the man that can be confirmed is that he is from Bristol.
In the past, Banksy has insisted that he will never reveal his true identity, leading some to nickname him the Scarlet Pimpernel of modern art.
In a recent email interview with the Village Voice, Banksy said he plans to create a new piece of art in Manhattan every day through the month of October.
He told the paper that he doesn't plan on making a profit from his art in the city, noting that commercial success would be a mark of failure for a graffiti artist.
"When you look at how society rewards so many of the wrong people," he wrote, "it's hard not to view financial reimbursement as a badge of self-serving mediocrity."
Sources: DailyMail, The Inquisitir
Don't think too hard about these.
By using a technique called anamorphic drawing, the following artists have created incredibly thought-twisting pictures that fool the eye and show realistic 3D images on an entirely flat surface.
Enjoy:
(And don't forget to check out these 10 excellent 3D sidewalk drawings)
Website: http://www.fredosis.com
Website: http://starryjohn.deviantart.com/art/anamorphic-drawing-312708818
Website: http://jokershadow666.deviantart.com
Website: http://alessandrodd.deviantart.com/