Over the past few weeks of these NBA playoffs, commercials have become a pretty common sight for the film "Just Wright," featuring film clips of rapper-turned-actor Common going through a reel of highlight plays as he hams it up with the likes of Dwight Howard. The drama involved? Apparently, a career-threatening injury suffered in a game that Common must recover from. As the NBA has had such great success with the silver screen in hits such as Eddie and Like Mike, this was sure to continue that lineage.
Exciting basketball, actual players and the NBA's endorsement? Compelling drama, too? What NBA fan wants to say no to that? So as the trailer reel ends and the guys in the crowd finally stop rolling their eyes over the unabashed excitement the rest of the audience has after seeing the trailer to the new Twilight film, what type of basketball scenes will the film open up with to get the basketball fans hyped?
Why, it's an opening credits reel of Queen Latifah's character, Leslie Wright, cooking breakfast and talking to her family about an upcoming date. Wait… what? But the commercials during the NBA playoffs said this was a basketball film! Isn't this what should be expected from a basketball movie from the director of The Sisterhood of the Traveling Pants 2? Instead, we get this: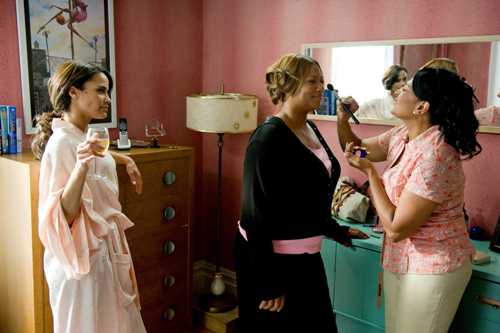 Popular Video
This young teenage singer was shocked when Keith Urban invited her on stage at his concert. A few moments later, he made her wildest dreams come true.
In actuality, Just Wright is a love story. Produced by Queen Latifah's Flavor Unit Productions, it tells the story of Leslie Wright, a physical therapist who begins a relationship with New Jersey Nets star Scott McKnight (Common) one night after a Nets game. Maybe a tenth of the film is actually spent on a basketball court. How do those scenes actually play out?
- The film has its fair share of basketball personnel represented: Dwight Howard, Dwyane Wade, Danny Granger, Kenny Smith, Marv Albert, and Mike Fratello all get camera time. The film does try to keep some details with the teams as well, which is seen during a clip when Nets GM Rod Thorn is in conversations with trainer Tim Walsh and Senior VP Leo Ehrline.
- Common's character, Point Guard Scott McKnight, is a two-time MVP and the franchise player of the New Jersey Nets. They accurately mention that the Nets made their last NBA Finals appearance in 2003. What goes unmentioned, however, is any existence of Jason Kidd, who couldn't have possibly been starting at the same position of the fictional McKnight.
- The injury that happens to Scott McKnight occurs during a play in the All-Star Game. Since when does any NBA player play hard enough to injure themselves in the All-Star Game? When is the last time a serious injury even occurred during the festivities?
Popular Video
This young teenage singer was shocked when Keith Urban invited her on stage at his concert. A few moments later, he made her wildest dreams come true:
- Rajon Rondo easily has the most random appearance in the film. As Common's Scott McKnight begins to admire Leslie Wright's god-sister, Morgan Alexander (played by Paula Patton), Rondo walks on screen to smile in acknowledgement. Nothing more. Considering that nearly every other NBA player actually shows up in a scene on a basketball court, what on Earth is Rondo doing just being the guy that's happy to check a girl out?
- One of the key points of the film takes place in the Eastern Conference Finals in which the New Jersey Nets – owners of NBA's worst record this past season – host the Miami Heat. Apparently, they weren't going for accuracy in this film.
- Elton Brand makes an appearance in the film as himself and acts as a player who is desperate to hire a good physical therapist for the Sixers, so much so that he asks the front office if he can invite that therapist personally. Looking at his injury-riddled career since leaving the Clippers, this comes as no surprise. Karma's a bitch, ain't it?
As for the film itself, it doesn't do too much to impress. The principle elements of the story don't cover any new territory, and anyone who has seen a romantic comedy can predict how most of the film will play out within the first thirty minutes of the film. Additionally, Common's performance for much of the film is rather wooden and lacks the emotional depth to really make a relationship between his character and Latifah's Leslie Wright very convincing. There are some nice pieces in the film, but not enough to take it over the top.
The verdict: 27 points, 19 rebounds, 10 assists and 9 turnovers.
Follow Brandon on Twitter. His username is @dingyu.
Also, join our FaceBook page.