Just over a month ago, we were intrigued and somewhat amused to find that both Tim Tebow and Brady Quinn were listed as the team's Co-No. 2 quarterbacks. 
Now that the Broncos have committed to Tebow, I was wondering where Kyle Orton now stands on the depth chart.
You guessed it: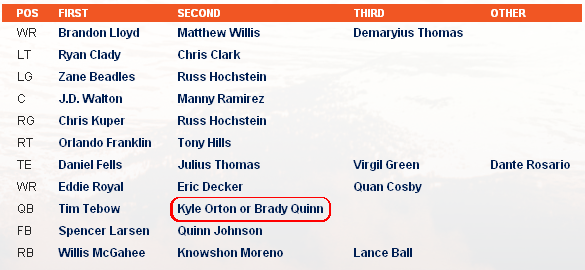 A screenshot of the Denver Broncos official depth chart, seen on DenverBroncos.com.
Popular Video
This young teenage singer was shocked when Keith Urban invited her on stage at his concert. A few moments later, he made her wildest dreams come true.
Coach John Fox noted that it would be a competitive disadvantage to name a second string quarterback when Orton was starting, apparently his stance hasn't changed.
Is this perhaps going a bit overboard though?  One would assume the Broncos will give Quinn his shot of Tebow totally flops, so why beat around the bush?  Either part ways with Orton or make him the second string quarterback — there's no point in creating more drama now.
I actually feel bad for Brady Quinn, he went through a lot in Cleveland and it's been more of the same in Denver.  Does anyone else feel that Quinn is more likely to be the Broncos future than Orton is (or ever was)?  It's time to move on from Orton.