Houston, we're not in kindergarten anymore.
Artists are definitely stepping up the sidewalk chalk game these days, creating some incredibly mind-boggling images that either look like they're reaching out to grab you or could potentially suck you right in.
The achievement of such a real 3D quality in the following photos is astounding. From here on out, we suggest you double-check before jumping into any big puddles...
Website: http://www.julianbeever.net/
Facebook: https://www.facebook.com/pages/Julian-Beever/20213436407
Website: http://www.julianbeever.net/
Facebook: https://www.facebook.com/pages/Julian-Beever/20213436407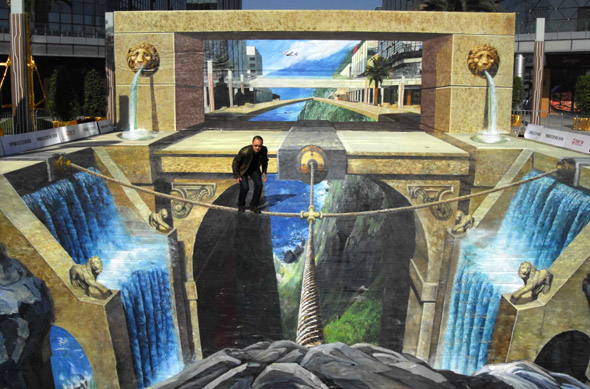 Website: http://kurtwenner.com/
Facebook: https://www.facebook.com/pages/Kurt-Wenner/204495892802
Website: http://www.tracyleestum.com/
Facebook: https://www.facebook.com/pages/Tracy-Lee-Stum/29196112524
Facebook: https://www.facebook.com/leonkeer
Facebook: https://www.facebook.com/pages/Manfred-Stader/242057875840588
Website: http://www.metanamorph.com/
Facebook: https://www.facebook.com/Edgar.Mueller.Official
Website: http://kurtwenner.com/
Facebook: https://www.facebook.com/pages/Kurt-Wenner/204495892802