CONTROVERSY: People are taking sides in the controversy over Tracy Morgan's June 4 stand-up act in Nashville during which he, among other things, said he would stab his son to death if he turned out to be gay.
Morgan's 30 Rock co-star Tina Fey and NBC chairman Robert Greenblatt both released statements yesterday that were critical of Morgan but fellow comic Chris Rock has tweeted words of support.
"I dont know about you, but I dont want to live in world where Tracy Morgan cant say foul inappropriate shit," he posted yesterday on Twitter.
GLAAD responded to Chris Rock with this tweet: ".@chrisrock Language about stabbing kids for being gay isn't 'foul.' It's dangerous. http://bit.ly/mzvArg #LGBT #gay"
Popular Video
This young teenage singer was shocked when Keith Urban invited her on stage at his concert. A few moments later, he made her wildest dreams come true.
Then earlier today, Rock added a more well though-out post: "Tracy Morgan is a tad off we all know that so when tracy says something i usually don't take it anymore serious than i would a statement from gary busey or flavor flav .when i first heard the statement i thought it was offensive but it also reminded me of my father saying ill kill you if you ever bring home a white girl but after reading everything tracy said . wow i get it that shit wasn't called for and i don't support it at all. now can i please go to the tony awards without getting my ass kicked."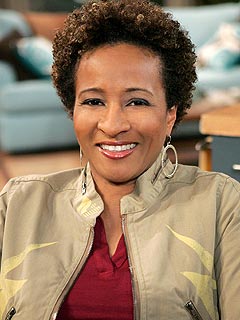 Meanwhile, out comic Wanda Sykes has weighed in saying of Morgan's material: "I do believe in free speech, but for a youth in TN or any other numerous place, Tracy just yelled, 'Fire,' in a crowded theater."
Wanda described Morgan as "just a dumb comic," but she also faults Tennessee lawmakers: "They've created an anti-​gay environment." She doesn't "believe Tracy would be so ignorant in LA, because we have a mayor, a city council,and police chief who believes we are all equal."
Popular Video
This young teenage singer was shocked when Keith Urban invited her on stage at his concert. A few moments later, he made her wildest dreams come true:
Of Rock's initial tweet she remarked via Twitter: "Ok, piss'd reading, "I don't want 2 live n a world where Tracy can't say…" I Do! U Keep the world, just break me off an evolved country."
Later she added: "Tracy has the right to say whatever he wants to say, just like we have the right to say, not acceptable.," and, "WE as a country. We used to picnic to watch public hangings, but WE figured out, that was some sick shit."
Read more at Greg in Hollywood